The TEEBAgriFood Steering Committee was disbanded in 2018, following the successful launch of the 'Scientific and Economic Foundations' report, owing in large part to their valuable steer and guidance.
TEEBAgriFood Study Leader /
Steering Committee Chair

Alexander Müller
TEEBAgriFood Study Leader and Managing Director, TMG Research
Alexander Müller (Germany) is the study leader of "The Economics of Ecosystems and Biodiversity for Agriculture and Food".
Alexander Müller received a diploma in sociology at the Philipps-University in Marburg in 1985.
He was elected as city councillor in Marburg (1985 -1992) with the responsibility for social and environmental affairs and was chair of the board of the municipal utilities (electricity, natural gas, water and public transport).
From 1992 to 1995 he was appointed as state secretary in the Ministry of Youth, Family Affairs and Health in the state of Hesse.
From 1995 to 2000 he was member of the parliament of Hessen and served inter alia as chair of the caucus and member of the budget committee.
From 2001 to 2005 he was State Secretary in the Ministry for Consumer Protection, Food and Agriculture in the Federal Republic of Germany.
From 2006 until June 2013 he served as Assistant-Director General of the Food and Agriculture Organization of the United Nations (FAO) and was responsible for the Department for Natural Resources and Environment.
The Secretary-General of the UN nominated him as a member of the Advisory Group on Energy and Climate Change (AGECC) in June 2009 to advise him on the energy-related dimensions of the climate change negotiations.
From 2008 to 2011 he was chair of the United Nations System Standing Committee on Nutrition (UNSCN).
May 2013 until Oct. 2014 he was Senior Fellow in the cluster Global Contract for Sustainability of the IASS working on governance of sustainability, with a focus on soils and its role in the Nexus of Water, Food and Energy and on the German Energiewende.
He was also appointed as study leader of the UNEP project "The Economics of Ecosystems and Biodiversity Agriculture and Food" (TEEB AgFood).
The European Commission appointed him as a member of the independent expert commission on "Junction of Health, Environment & Bioeconomy: Foresight and Implications for European Research and Innovation Policies" to advise on the design of the Union research and innovation policy.
TEEBAgriFood
Special Adviser

Pavan Sukhdev
Founder & CEO, GIST Impact
Other key responsibilities: former President, WWF-International; UNEP Goodwill Ambassador
Pavan Sukhdev is a scientist by education, an international banker by training, and an environmental economist by passion. Years of work in sustainability and the invisible economics of nature led to his appointment to head the United Nations' "Green Economy Initiative " and to lead the G8+5 study TEEB (The Economics of Ecosystems and Biodiversity).
Pavan was awarded the McCluskey Fellowship (2011) by Yale University. At Yale, he taught a graduate course on TEEB and wrote his book "Corporation 2020-Transforming Business for Tomorrow's World". In this book, he advocates four changes in micro-policy and regulation that can rapidly transform today's corporation to deliver tomorrow's green and equitable "economy of permanence".
As Founder and CEO of GIST Impact, which delivers high-quality impact data and intelligence, Pavan works with corporations and investors, harnessing the power of impact economics and technology to discover the full value contribution a business makes to the world.
Pavan has served on the boards of Conservation International (CI), the Global Reporting Initiative (GRI), the Stockholm Resilience Centre (SRC), and the TEEB Advisory Board. His work has been recognised through several awards, including the Blue Planet Prize (2016) and the Tyler Prize (2020).

Patrick Holden
Founding Director, The Sustainable Food Trust
Patrick Holden is the founding director of the Sustainable Food Trust, a new organisation based in Bristol, UK, working internationally to accelerate the transition towards more sustainable food systems.
After studying biodynamic agriculture at Emerson College, he established a mixed community farm in Wales in 1973, producing at various times: wheat for flour production sold locally, carrots, and milk from an 85 cow Ayrshire dairy herd, now made into a single farm cheddar style cheese by his son Sam.
He was the founding chairman of British Organic Farmers in 1982, before joining the Soil Association, where he worked for nearly 20 years and during which time the organisation led the development of organic standards and the market for organic foods.
His advocacy for a major global transition to more sustainable food systems now entails international travel and regular broadcasts and talks at public events.
He is Patron of the UK Biodynamic Association and was awarded the CBE for services to organic farming in 2005.

Danielle Nierenberg
President, Food Tank
Danielle Nierenberg (USA) is President of Food Tank and an expert on sustainable agriculture and food issues. She has written extensively on gender and population, the spread of factory farming in the developing world and innovations in sustainable agriculture.
Danielle co-founded Food Tank, non-profit organization, in 2013 as an organization focused on building a global community for safe, healthy, nourished eaters. Already, the organization boasts more than twenty major institutional partners and has recruited more than 40 of the world's top leaders in food and agriculture policies and advocacy work as part of Food Tank's Advisory Board. The organization hosted the 1st Annual Food Tank Summit in January 2015 in partnership with The George Washington University.
Prior to starting Food Tank, Danielle spent two years traveling to more than 35 countries across sub-Saharan Africa, Asia, and Latin America, meeting with farmers and farmers' groups, scientists and researchers, policymakers and government leaders, students and academics, along with journalists, documenting what's working to help alleviate hunger and poverty, while protecting the environment.
Her knowledge of global agriculture issues has been cited widely in more than 8,000 major print and broadcast outlets worldwide; she has authored or contributed to dozens of influential reports and books; she has spoken at hundreds of major conferences and events all over the world; and she has built a worldwide social media and web following

Maryam Rahmanian
Expert on Agroecology and Biodiversity
Maryam Rahmanian (Iran) is currently a consultant on agroecology and biodiversity at the FAO. She is committed to the participation of smallholder farmers and other members of civil society in both research and policy processes that affect their lives, as well as the interface between the two. Her field experience began in her native Iran. She has been a Research Associate at the Centre for Sustainable Development and Environment, an Iranian NGO, where she initiated and led a national programme on Participatory Plant Breeding. Working with small farmers and pastoralists as well as formally trained scientists and policy makers has given her a unique perspective on the need to find ways to bridge the knowledge systems of different social actors.
She was Vice Chair of the Steering Committee of the High Level Panel of Experts on Food Security and Nutrition (HLPE) of the UN Committee on World Food Security (CFS) for two terms, from its establishment in 2010 until 2015. The HLPE aims to improve the robustness of policy making by providing independent, evidence-based analysis and advice at the request of the Committee on World Food Security (CFS). She is also a panel member of the International Panel of Experts on Sustainable Food Systems where she contributes to the co-creation of knowledge on biodiversity and agroecology. She has been a Research Fellow at the Institute for Advanced Sustainability Studies (IASS) and is a member of the Steering Committee of the Global Soil Forum.

Peter H. May
Professor, Department of Development, Agriculture and Society of the Federal Rural University of Rio de Janeiro
Peter H. May received his PhD in Resource Economics from Cornell University in 1986. Professor and former chairman of the Department of Development, Agriculture and Society-DDAS of the Federal Rural University of Rio de Janeiro-UFRRJ, May has been Visiting Scholar at the Energy and Resources Group of the University of California-Berkeley, and at the Earth Institute at Columbia University.
He acted as Program Officer (Rural Poverty and Resources) at the Ford Foundation's Rio Office and as Forestry Officer (Non-Wood Forest Products) at the FAO in Rome. He also served as Executive Secretary of the Brazilian Agroforestry Network-REBRAF and is currently an Associate Director of Friends of the Earth-Brazilian Amazon.
Author and editor of 11 books in ecological economics and environmental policy, May founded and served as the first President of the Brazilian Society for Ecological Economics-ECOECO.
He has been engaged during 25 years of resident research, teaching and consultancy in Brazil in research, consultancy, project administration and training in the economics and management of natural resources for sustainable rural development. His specific areas of expertise include: environmental valuation, cost-benefit analysis, economic instruments, payment and compensation for ecosystem services, conservation finance, utilization and marketing of forest products, forest product certification, agroforestry systems and watershed management. Besides his experience in Brazil, he has also undertaken short-term assignments in Central America and the Caribbean, Peru and Thailand.


Walter Pengue
Agricultural Engineer specialized in Improvement of Plant Genetics at the University of Buenos Aires
Dr. Walter Pengue is an Agricultural Engineer specialized in Improvement of Plant Genetics (Plant Breeding), at the University of Buenos Aires.
He holds a Masters degree from the same University in Environmental and Territorial Policies and is Doctor in Agro-Ecology, Rural Sociology and Sustainable Development by the University of Córdoba, European Union (Spain).
He is a founding member and former President of the Argentine/Uruguayan Association of Ecological Economics (ASAUEE), as well as of the Ibero- American Network of Ecological Economics (REDIBEE). He is Member of the Board of Directors of the International Society for Ecological Economics (ISEE). Pengue was a founding member of SOCLA (Latin American Scientific Society of Agroecology).
He is Director of the Postgraduate Specialization on Ecological Economics at the University of Buenos Aires as well as Professor of the Group on Landscape Ecology and the Environment, GEPAMA, Faculty of Architecture, University of Buenos Aires, ARGENTINA and an active promoter of ecological economics education through new tools developed under virtual plataforms, obtaining a relevant results in the socialization of the discipline in Latin America and Europe.
Dr. Pengue is full professor of Ecology, at the Ecology Department, Periurban Institute (ICO), Universidad Nacional de General Sarmiento (Buenos Aires, Argentina).
His main area of expertise are related with Ecological Economics, Agriculture, Agroecology, Urban Ecology, Social Metabolism, Rural Development and Physical Indicators studies and with the evaluation of ecological, economics and social transformation as results of modern rural changes in different levels and regions.
Dr. Pengue is a former member of the Scientific Committee of the International Resource Panel (2008-2015) and is integrated with the activities of IPBES since 2013.
Author of numerous books and book chapters dealing with ecological economics, green economy and the impact of new technologies in agriculture, sustainable models of agricultural development and production alternatives. He is a consultant for different public and private entities as well as International Organizations on matters such as Agricultural Production, Green Markets, Sustainable Development, New Technologies and Environmental Impacts.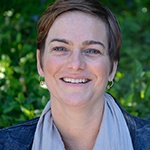 Ruth Richardson
Executive Director Global Alliance for the Future of Food
Ruth Richardson (Canada) is the Executive Director of the Global Alliance for the Future of Food, a unique coalition of foundations committed to leveraging their resources to help shift food and agriculture systems towards greater sustainability, security, and equity. At the core of the Global Alliance is a shared belief in the urgency of advancing sustainable global agriculture and food systems, and in the power of working together and with others to effect positive change. In this capacity Ruth serves on the Steering Committee of the TEEB for Food and Agriculture study led by the UNEP, and on the Advisory Committee of the Global Urban Food Policy Pact.
Alongside her role with the Global Alliance, Ruth runs Open Blue – a consulting company that works with a small number of clients who are deeply committed to developing powerful strategies to tackle some of the most pressing global, national, and local problems of our time. Prior to these endeavours, Ruth was the first Environment Program Director at the Metcalf Foundation that has been the cornerstone of innovative environmental policy funding in Ontario. Her tenure at the Metcalf Foundation included acting on the Advisory Committee of the City of Toronto, Board of Health, Toronto Food Strategy to develop an action plan to improve the food system of the Toronto city region.
As well, Ruth was the first Director of the Unilever Canada Foundation, as well as the Manger, Environmental and Corporate Affairs, working within a corporate environment to lead the company in philanthropy and community engagement. She was the founding Chair of the Canadian Environmental Grantmakers' Network spear-heading the first affinity group of its kind in the country turning an early conversation between a handful of funders into an international network of now over 50 members. And, she sat on the founding advisory committee of the Laidlaw Foundation's Children and Environmental Health program helping to initiate a key program on toxics reduction in Canada. She is also the Founder and past-Chair of Small Change Fund, a web-based vehicle for micro-philanthropy in Canada.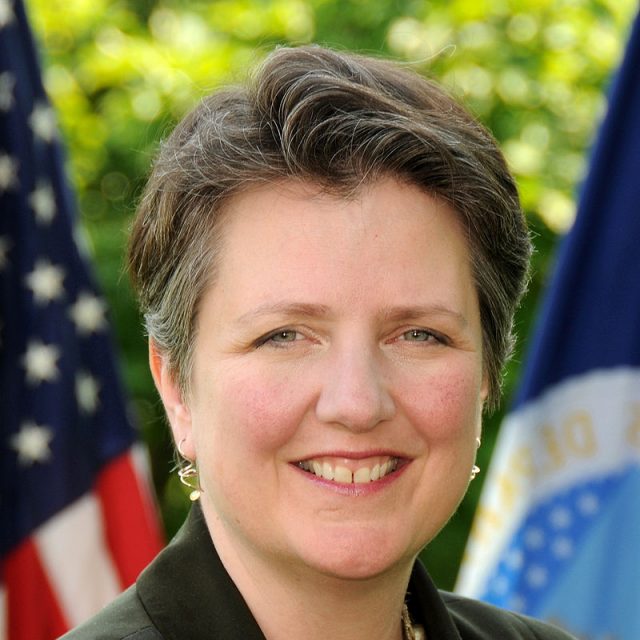 Kathleen A. Merrigan
Executive Director of the Sustainability Institute George Washington University
Kathleen Merrigan (USA), named one of Time Magazine's "Most Influential People in the World" in 2010, Dr. Merrigan brings to the university a diverse range of experience spanning nearly 30 years.
In 2009, she was nominated to serve as US Department of Agriculture deputy secretary by President Obama and unanimously confirmed by the U.S. Senate. During her four-year tenure at the USDA, she oversaw the daily operations of agency, leading the USDA's budget process, establishing the agency's priorities and monitoring progress, and driving its rulemaking process. Her accomplishments include creating and leading the Know Your Farmer, Know Your Food Initiative to support local food systems; serving as a key architect of First Lady Michelle Obama's "Let's Move!" campaign; and representing the United States before the United Nations Commission on Sustainable Development.
Before joining the USDA, Dr. Merrigan served for nearly a decade as a faculty member and director of the Agriculture, Food and Environment Program at Tufts University. She has also held positions as a senior analyst for the Henry A. Wallace Institute for Alternative Agriculture and a staff member for the U.S. Senate Committee on Agriculture, Nutrition & Forestry, where she wrote the law establishing national standards for organic food.
Dr. Merrigan earned a Ph.D. from the Massachusetts Institute of Technology, a Master of Public Affairs from the University of Texas at Austin, and a B.A. from Williams College.

Jules Pretty
Professor of Environment and Science University of Essex
Professor Jules Pretty, OBE (UK) is an author and academic whose work focuses on sustainable agriculture and the relations between people and the land. He is based on the Essex and Suffolk border in England, living in the Suffolk wool village of Nayland and working at the University of Essex in Colchester. Jules was awarded an Order of the British Empire 2006 for services to sustainable agriculture.
Jules writes on the importance and relevance of nature for people. His most recent book, This Luminous Coast, won the New Angle Prize for Literature and the East Anglian Book of the Year award.
At the University of Essex, Jules is Deputy Vice-Chancellor. He is a member of the Green Exercise research team and his research focus is on green exercise, nature and health. His 2010 papers Dose of Nature (jointly written with Dr Jo Barton) and Top 100 Questions for Agriculture and Food (Pretty et al) received considerable coverage worldwide.
Jules is a Fellow of the Society of Biology and the Royal Society of Arts. He is a former Deputy-Chair of the government's Advisory Committee on Releases to the Environment and served on advisory committees for a number of government departments and research councils. He was also a member of two Royal Society working groups that published Reaping the Benefits (2009) and People and the Planet (2012), and was a member of the UK government Foresight project on Global Food and Farming Futures (2011).

Abdou Tenkouano
Executive Director of CORAF, the West and Central African Council for Agricultural Research and Development
Dr. Abdou Tenkouano is the Executive Director of CORAF, the West and Central African Council for Agricultural Research and Development, based in Dakar, Senegal
His academic background is in plant breeding and genetics, with a Ph.D. (1993) obtained at Texas A&M University. His research interests encompass the use of conventional plant breeding and biotechnology to develop new and improved varieties; the structure and expansion of associated seed systems; and the use of participatory community immersion approaches linking research and practice to facilitate uptake of innovations at scale. He has carried out his professional activities across sub-Saharan Africa and has worked on several crop species including sorghum, millet, maize, cassava, yam, banana and plantain, and a range of vegetables.
At the International Crops Research Institute for the Semi-Arid Tropics (ICRISAT) in Mali Dr. Tenkouano worked as a sorghum breeder and as coordinator of the West and Central Africa Sorghum Research Network from 1994 to 1996. During this period he studied the phenological plasticity of sorghum as a mechanism for coping with uncertainty of rains at the onset of the growing seasons. He also examined options for going beyond field-level production of sorghum with a view to improving grain storage and processing.
He then joined the International Institute of Tropical Agriculture (IITA, www.iita.org) and worked there until 2008, successively in Nigeria, Cameroon and Ghana, as a plant breeder for cassava, banana and plantain, and yam. At IITA, he led the banana and plantain program and served as member of the Research for Development Council. He and his team initiated one of the first banana transformation programs to look at transcriptional silencing as a method for preventing the expression of banana streak badnavirus (an integrated ds DNA that is present in all existing bananas and becomes active and pathogenic under certain conditions). This work has been in many ways the precursor to the banana transformation program later carried out in Uganda by a joint team of IITA and the National Research Organization (NARO) under the stewardship of the Kenya-based African Agricultural Technology Foundation (AATF). Through this program, banana transformed with genes from sweet pepper that confer resistance to bacterial wilt are now in confined field testing. His work on cassava led to the release of three varieties in Cameroon.
He joined AVRDC – The World Vegetable Center (WorldVeg) where he served as Deputy Chair of the Institutional Research and Development Committee and member of the Institutional Management Committee. He has been responsible for leading the center's operations initially across sub-Saharan Africa (based in Tanzania) and subsequently in West and Central Africa (based in Mali). He has been an advocate of dietary diversification with vegetables to improve the nutritional status of vulnerable populations across sub-Saharan Africa while tackling issues related to insufficiently productive crop varieties, health hazards associated with the use of polluted water for vegetable production, and perishability of harvested produce. This entailed the design of best practices hubs that combine testing and demonstration of research products with education of youth and women within local value chains.
Dr. Tenkouano has been keenly interested in harnessing the potential of the private sector in supporting agricultural transformation in Africa. In this regard, he has been an advisor of the Special Interest Group on Vegetables of the African Seed Trade Association (AFSTA). He departed AVRDC in April 2016.
Report coordinator

Dustin (Miller) Wenzel
Report Coordinator
Dustin Miller holds a Master of Science in Environment and Development from the Institute of Development Policy & Management at the University of Manchester as well as a Bachelor of Arts (cum laude) in International Development Studies at McGill University. His principal focus has been on identifying and mainstreaming the synergies between biodiversity conservation and socioeconomic development toward sustainable and equitable ecosystem management.
Dustin joined the TEEB team in Geneva in February 2012 and, among various other programme and operational support duties, has been primarily responsible for the project management of activities related to 'TEEB for Agriculture & Food.