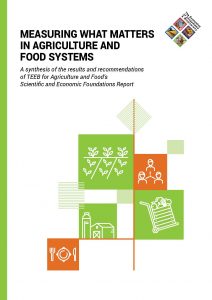 CHAPTER 1 – The challenges of agriculture and food systems in the 21st century: five different perspectives
CHAPTER 2 – Why eco-agri-food systems can only be understood with a systems perspective
CHAPTER 3 – The complex reality of eco-agri-food systems
CHAPTER 4 – Framing and evaluating eco-agri-food systems
CHAPTER 5 – What next?
Download report PDF
العربية | 中文 | English | Français | Русский | Español| Portuguese
Suggested citation: The Economics of Ecosystems and Biodiversity (TEEB) (2018). Measuring what matters in agriculture and food systems: a synthesis of the results and recommendations of TEEB for Agriculture and Food's Scientific and Economic Foundations report. Geneva: UN Environment.