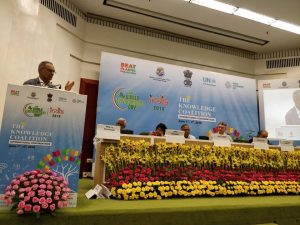 World Environment Day, New Delhi, 4 June 2018
On the occasion of World Environment Day, the 'Scientific and Economic Foundations' report was launched as part of the dialogue sessions organized in New Delhi by the Indian Ministry of Environment, Forest and Climate Change, in collaboration with UNEP.
The session highlighted the role of the Evaluation Framework in contributing to a new more holistic, multi-dimensional, systems-thinking paradigm and explored the potential impact for decision-makers in policy, business and farming, and in contributing to the 2030 Agenda and Sustainable Development Goals. It also featured best practices from India on natural farming emerging in smallholder agricultural landscapes that can be replicated and scaled in additional geographies to reduce vulnerability to climate change impacts.
Opening remarks – Mr. Erik Solheim, Executive Director, UN Environment
Moderated by Mr. Alexander Mueller, Study Leader, TEEB for Agriculture & Food
Panelists:
Kanchan Chopra, former Director of the Institute of Economic Growth, University of Delhi
E. Dr. Kuntoro Mangkusubroto, former Minister and Head of the President's Delivery Unit, Republic of Indonesia
S.K. Pattanayak, Secretary, Ministry of Agriculture and Farmer's Welfare, Government of India
Anandi Subramanian, Senior Economic Adviser, Ministry of Environment, Forest and Climate Change, Government of India
Pavan Sukhdev, President, WWF International and TEEB Study Leader