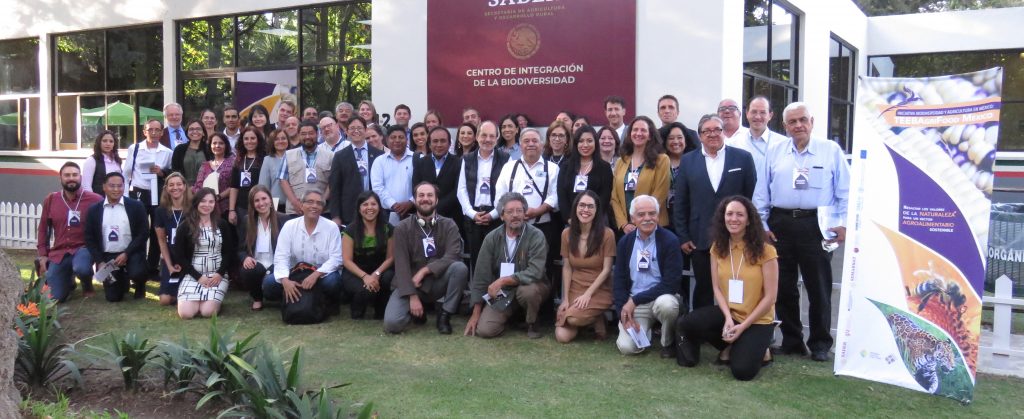 ©GIZ
High-level Breakfast and Technical Workshop
Mexico City, 20-21 February 2019
Iniciativa de Agricultura y Biodiversidad en México
Desayuno/Diálogo de alto nivel y taller técnico
México, 20-21 febrero 2019  
Initiative of Agriculture and Biodiversity in Mexico
High-level Breakfast/Dialogue and technical workshop
Mexico City, 20-21 February 2019
La iniciativa TEEBAgriFood fue lanzada en México el miércoles 20 de febrero 2019 en un Diálogo de Desayunos de Alto Nivel con líderes de agencias mexicanas, seguido de un taller técnico. El evento de dos días inició dos estudios  de TEEBAgriFood que se llevarán a cabo durante los próximos dos años, uno financiado por la Unión Europea y otro por la Iniciativa Internacional de Clima (IKI) de Alemania.
El diálogo de alto nivel buscó un acuerdo entre los actores clave de los sectores agrícola y ambiental para llevar a cabo la iniciativa TEEBAgriFood, en congruencia con el Plan Nacional de Desarrollo y los Programas Sectoriales pendientes. El grupo de alto nivel también seleccionó delegados para un comité directivo que guiará la iniciativa. Después del diálogo de alto nivel, un taller técnico, a través de consultas con las autoridades nacionales y locales y otras partes interesadas clave, discutió cómo la iniciativa TEEBAgriFood podría contribuir al entorno político actual de México y evaluó las prioridades agrícolas, socioeconómicas y ambientales a las cuales la iniciativa debe responder. Los sectores de estudio serán seleccionados por el comité directivo en junio de 2019.
The TEEBAgriFood initiative was launched in Mexico on Wednesday, February 20, 2019 in a High Level Breakfast Dialogue with leaders of Mexican agencies followed by a larger technical "brainstorming" workshop Wednesday afternoon and all-day Thursday, February 21. The two-day event initiated two TEEBAgriFood sectoral studies that will be conducted over the next two years, one funded by the European Union Partnership Instrument and one by the German International Climate Initiative (IKI).
The high-level breakfast dialogue sought an agreement between key actors in agricultural and environmental sectors to conduct the two TEEBAgriFood studies, in congruence with the pending National Development Plan and Sectoral Programs. The high-level group also selected delegates for a steering committee that will guide the initiative. After the high-level dialogue, a technical workshop, through consultation with national and local authorities and other key stakeholders, discussed how the TEEBAgriFood initiative could contribute to the current Mexican policy environment and evaluated agricultural, socio-economic, and environmental priorities to which the initiative should respond. The study sectors will be selected by the steering committee in June, 2019.
Informe final
Final report (in Spanish)
Presentaciones y materiales
Presentations and materials